A properly dressed dining table for the holidays is the backdrop for a gorgeous meal
Decorating your table for the holidays is a time-honored tradition. You want your dinner guests to be transformed into the holiday season mood immediately upon entering the dining room.
Holiday dinners should be special and memorable. Designing the dining table is a festive affair. Therefore, get out your finest dinnerware and embellish the table with a fabulous centerpiece and festive linens. In other words, pull out all of the stops to create the perfect dining experience.
Here are some great tips and ideas to help you plan a beautiful holiday tabletop display:
To begin with, start with a basic solid-colored tablecloth or a subtle print. This is always a very classic look.
Place cards – Make specialized place cards for each guest. It adds a personal touch to the rest of the dinner table decorations.
Dinnerware adds another shiny element to the holiday tablescape.
Napkin rings may sound like an insignificant item, but it makes a difference when it comes to styling your table. They make the table look polished and it adds a layer of texture.
Create a centerpiece. It's time to embellish our holiday table, giving it some color and style.
Want a twist for traditional décor?
Spruce it up by adding different styles like glam, rustic or minimalist. Refresh the look of ivory and white by adding metallic touches for a more chic and luxurious feel. Line the center of your table with stylish mercury glass Christmas trees or various heights of Nutcrackers (Nutcrackers are my favorite holiday décor).
Use fresh evergreen garland, twigs, and pinecones for a rustic display
Adding candlelight is always a plus when styling your dining table. As a result, gives your tablescape an intimate and luxurious feel. If you seek to create something fun and whimsical, wrap a few boxes in colorful or theme-related wrapping paper. Place them randomly down the center of your table. Ornaments are an easy way to add color and sparkle without much effort.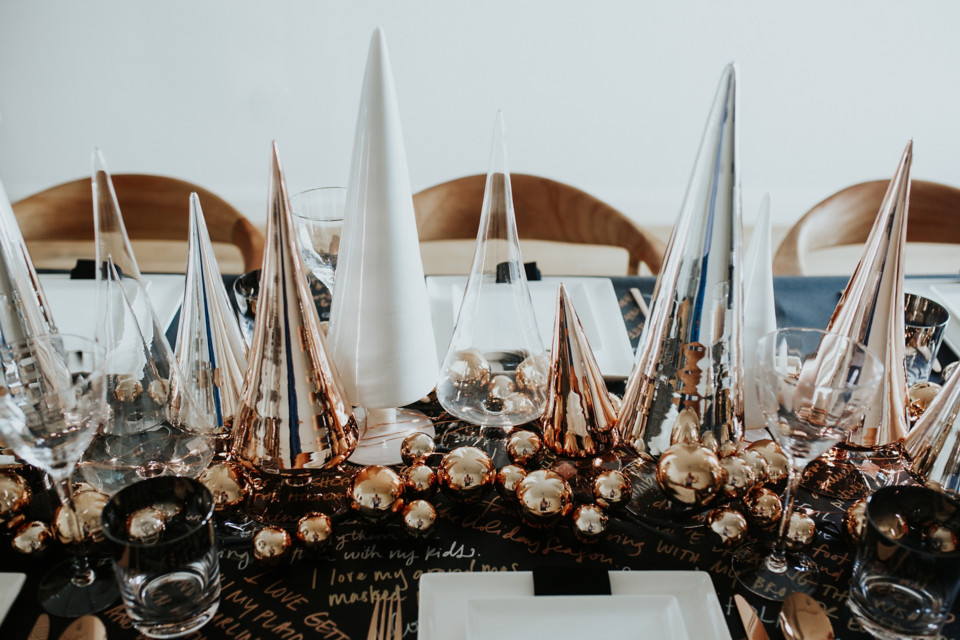 Creating a festive centerpiece and place setting is the ideal solution for having an exceptional dining experience. Hopefully, you have been inspired to create your signature tabletop. Make it fabulous, elegant, and fun.
Make your tabletop POP! Visit our Pinterest boards for more inspiring holiday designs:
12 Tabletops of Christmas
Party Elements for Entertaining at Home
Colorful Christmas
Nutcracker Suite